Fiction & Interactive Installation
Lagunas is a triptych between memory, death and water.
Lagunas is standing water, still, that calls death and tells the story of a death.
Lagunas ancient memories, fragments of archaic existence.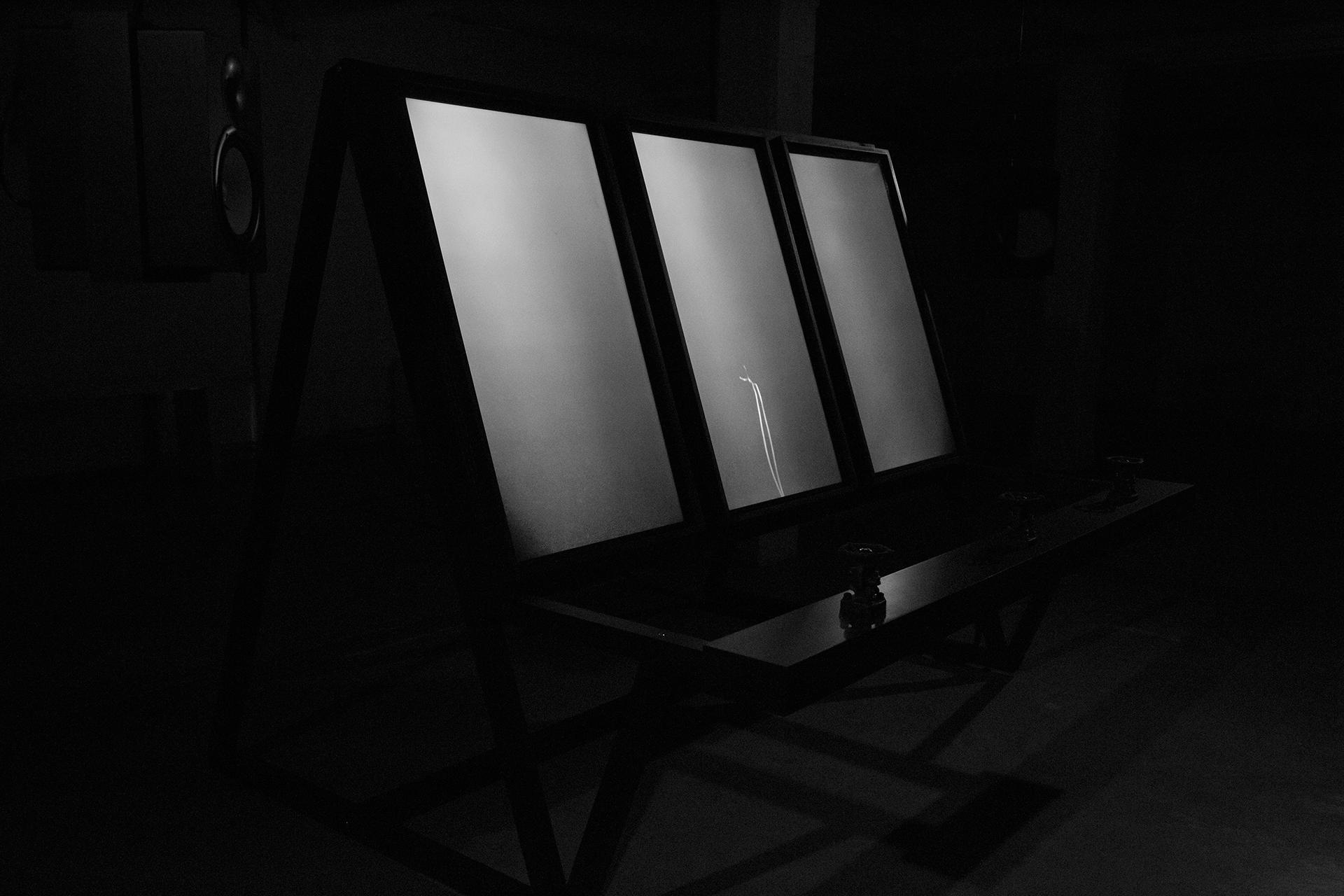 Lagunas is a fictional & interactive installation, a triptych between memory, death, and water. Prehistoric landscapes are the scenario for the chronicles of a drowning man, disclosing the rarity of water on Planet Earth.
Lagunas is dark, still, and somber. Silent landscapes, dying fish, the water of a thick dark lake, seaweed and mud cover the depths. Below the surface, a man drowns. From the abyss, archaic rocks are attracted by magnetic forces. Drilling machines emerge, turning between the cliffs, intercepting the stones in levitation and destroying the rocks, which fall back into the water. The abandoned body of the man, receives the impacts of the stones, wakes up, strives to save his life, and loses consciousness...
The drilling machines embody the hydraulic fracturing techniques used to extract fossils fuels from the shale rock of the Earth. The water contamination process consequence of the hydraulic rupture is visualized from close-up animations to larger-scale images where the fracking fluid travels through the pipelines reaching the groundwater. High-pressure impulsions cause the nearby shale rock to crack, creating fissures where fuels flow into the surface of the Earth, while rests of toxic fluids contaminate the water of the subsoil of the Earth.
Three water valves are used in Lagunas as interactive devices. When the water valves are rotated, image and sound are activated. Further than interacting with image and sound events, the level/amount of interaction of the participants is continuously analyzed. An interactive scenario adapts to the behavior of the spectators, allowing variations and deviations on the fictional order. The water tabs are used all along the experience as triggers & controllers for the interactive scenario of the installation.
The lakes and mountain landscapes have been shoot in Colombia, in the «Chingaza Natural National Park», a natural reserve located in the Eastern Cordillera of the Andes, in the northeast of Bogotá. The underwater images were filmed in a lake in the Netherlands, using a high-speed cinema camera (Phantom-Flex) and shoot at 300fps. The landscapes & underwater images are composited with 3D (CGI) generated images.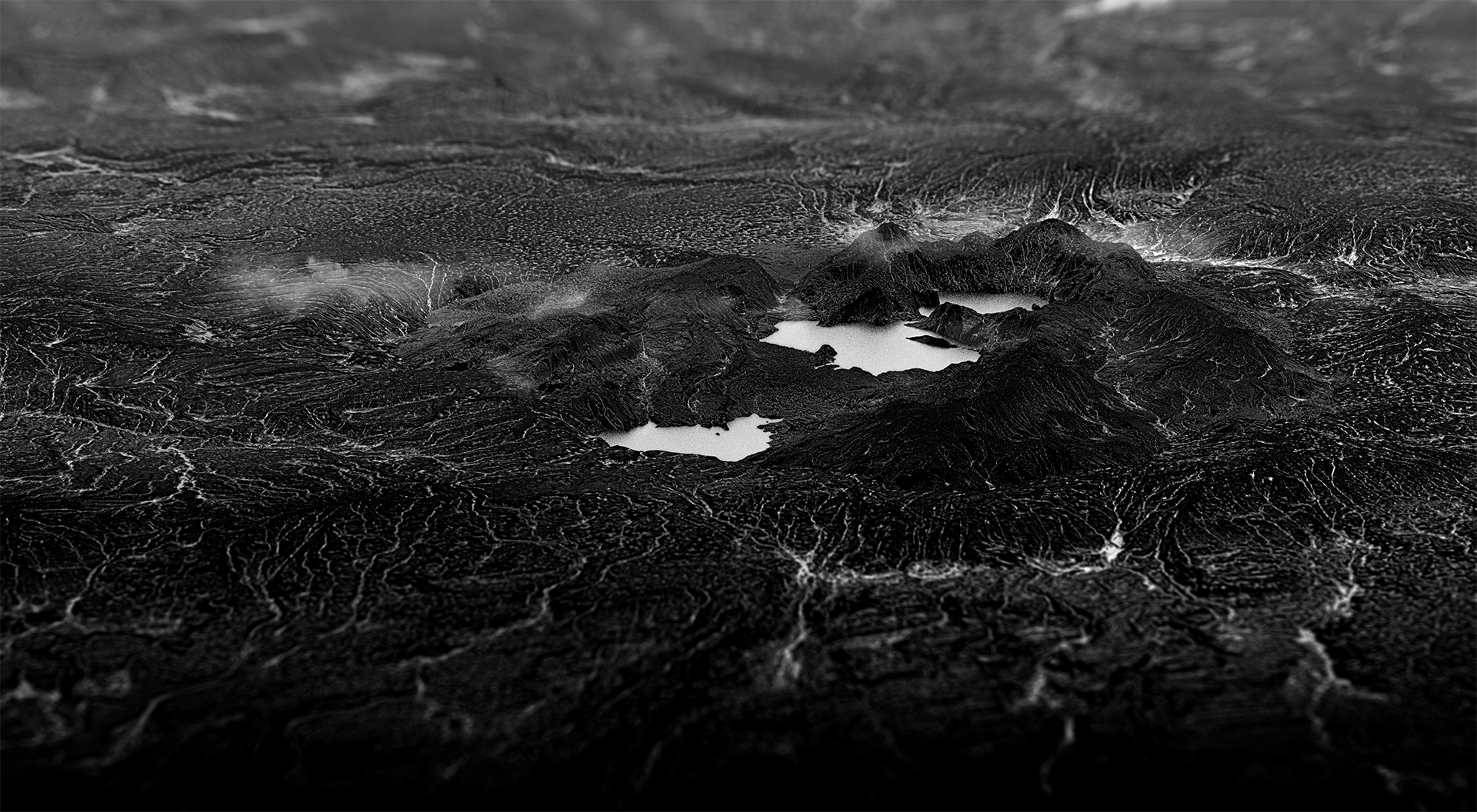 Set-up:
> 3 screens
> 3 mirrors
> 3 water tabs with custom electronics & sensors (no water connection)
> 4 speakers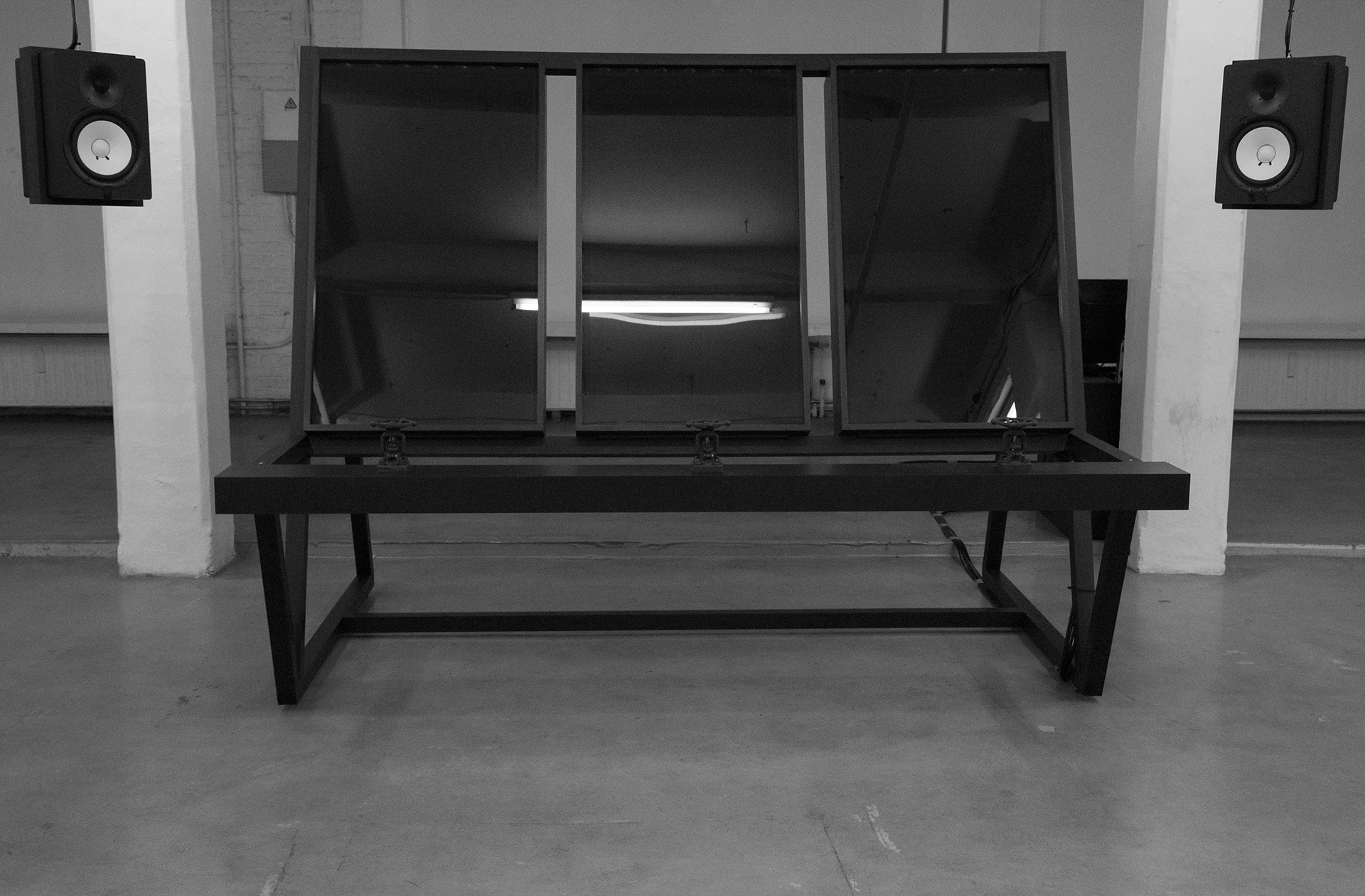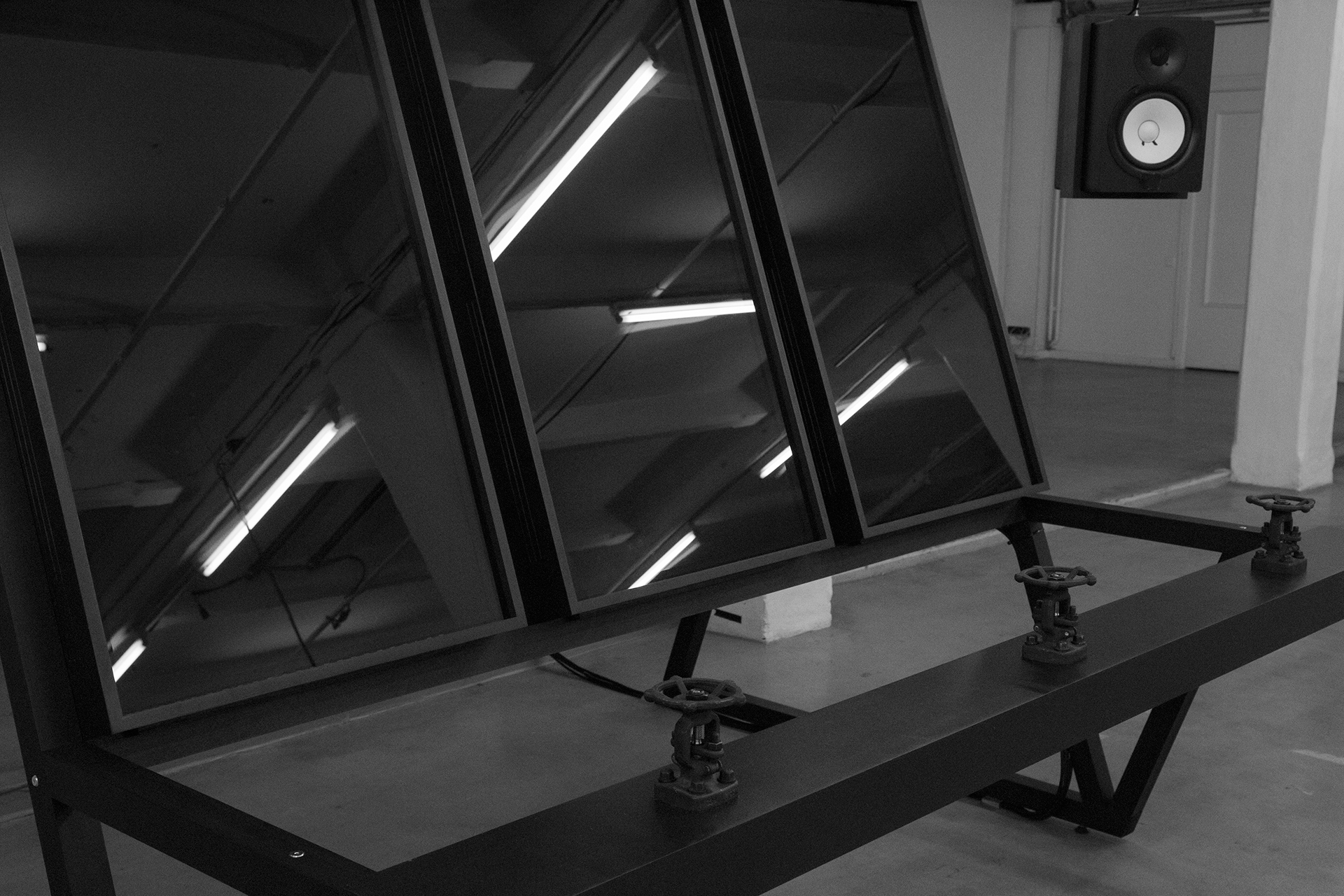 3D modeling & Animation: Rémy Gosselin | Abdoul Diallo | Samson Michel | Laura Colmenares Guerra
3D water simulations: Remy Gosselin | Samson Michel
Compositing: Remy Gosselin | Laura Colmenares Guerra
Software & interaction design: Yacine Sebti Music: Rafael Muñoz & Loup Mormon
Story Board: Leonard Delebecq
Installation construction: Alexis Lorich
Text translations: Anne Vereecken
Underwater shooting:
Featuring: Juan Bernardo Martinez
Underwater camera: Wim Michiels || LITES
Underwater camera assistant: Jan Lemmens
Security diver: Karen Jensen Surface camera assistant: Ruby van der Kooij
Phantom Operator: Stijn Berghman
Direction assistance: Kristina Ianachkova
Parque Nacional Natural Chingaza shootings:
Conchita Guerra | Laura Colmenares Guerra
Direction assistance: Daisy Peralta