CHAPTER N.2 - SPECULATIVE CARTOGRAPHIES
For general information about the project: Rios Trilogy
The second chapter of the Ríos Trilogy consists of a series of twenty-one sculptures developed through a process of digital hybridisation using Amazon-related data. Each sculpture is based on topographic data from a specific territory. These territories are delineated by the hydrological sub-basins established by the primary tributaries of the Amazon Basin:
Japurá-Caquetá /Iça-Putumayo + Napo / Marañon + Huallaga / Javari / Ucayali / Juruá / Purus / Madre de Díos + Beni / Mamoré + Guaporé / Madeira + Aripuanã / Juruena + Tapajós / Iriri + Xingu / Araguaia / Tocantins / Mearim / Trombetas / Branco + Guiana Highlands / Negro + Vaupés / Guaviare + Guainía / Suriname + French Guiana / Amazon floodplain
The process of creating the digital models included a time-based procedure spanned from December 2020 to December 2021. At the end of this period, time stamps based on linguistic analysis were generated. This analysis was integrated into the topographic data and the geo-referenced information on socio-environmental threats.
This speculative cartographic work acts as an archaeological artefact that catalogues the socio-environmental issues confronting the Amazon region while also capturing the semantic relationships generated around these problems on social media.
The sculptures were 3D printed using clay (porcelain).

Each sculpture is based on digital elevation models that result from the process of combining:
a) Actual topographic data.
b) Geo-referenced information related to socio-environmental threats.
c) Linguistic analysis based on RIVERS // AMAZONIA geo-linguistics: https://rivers.ulara.org/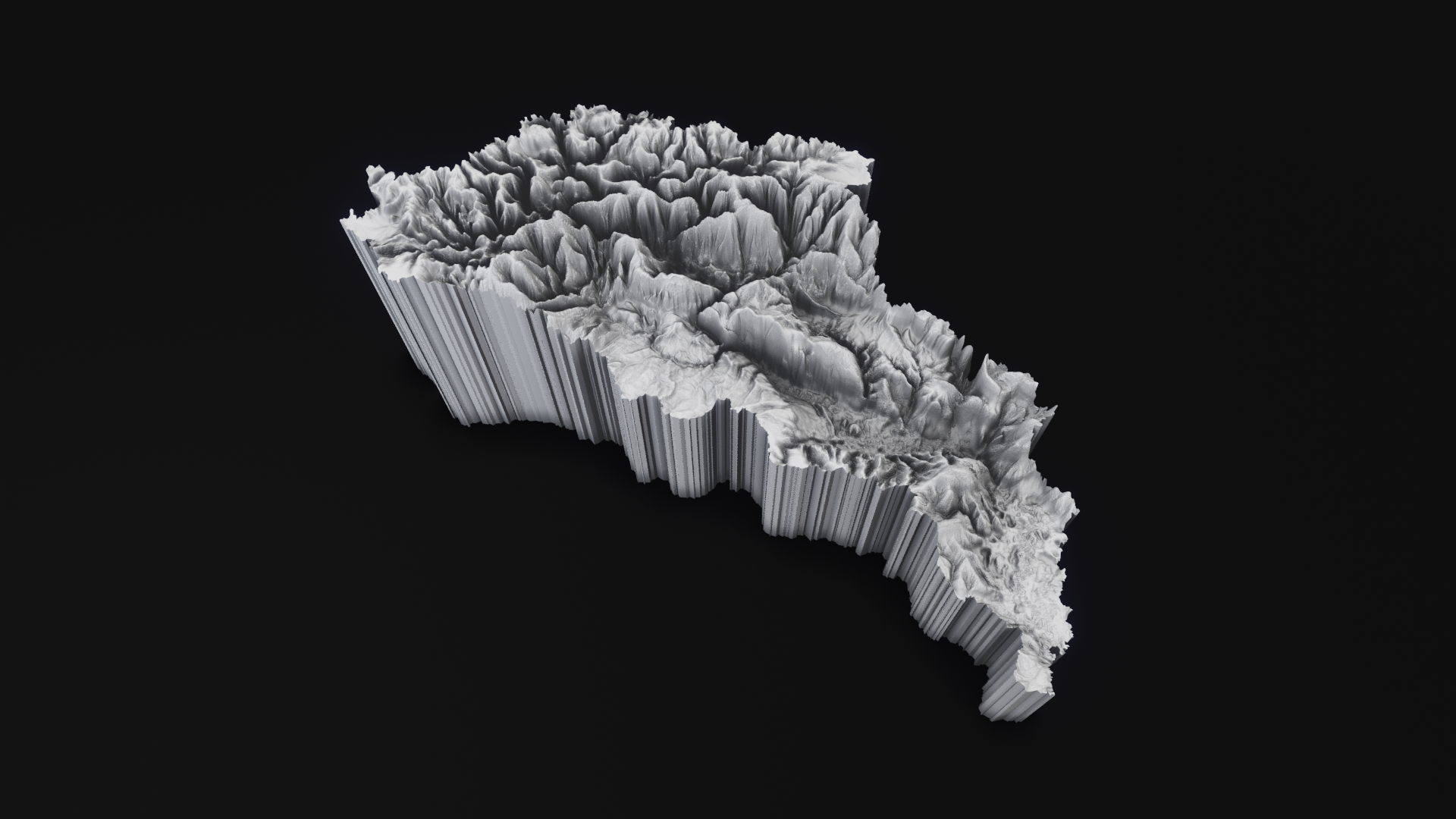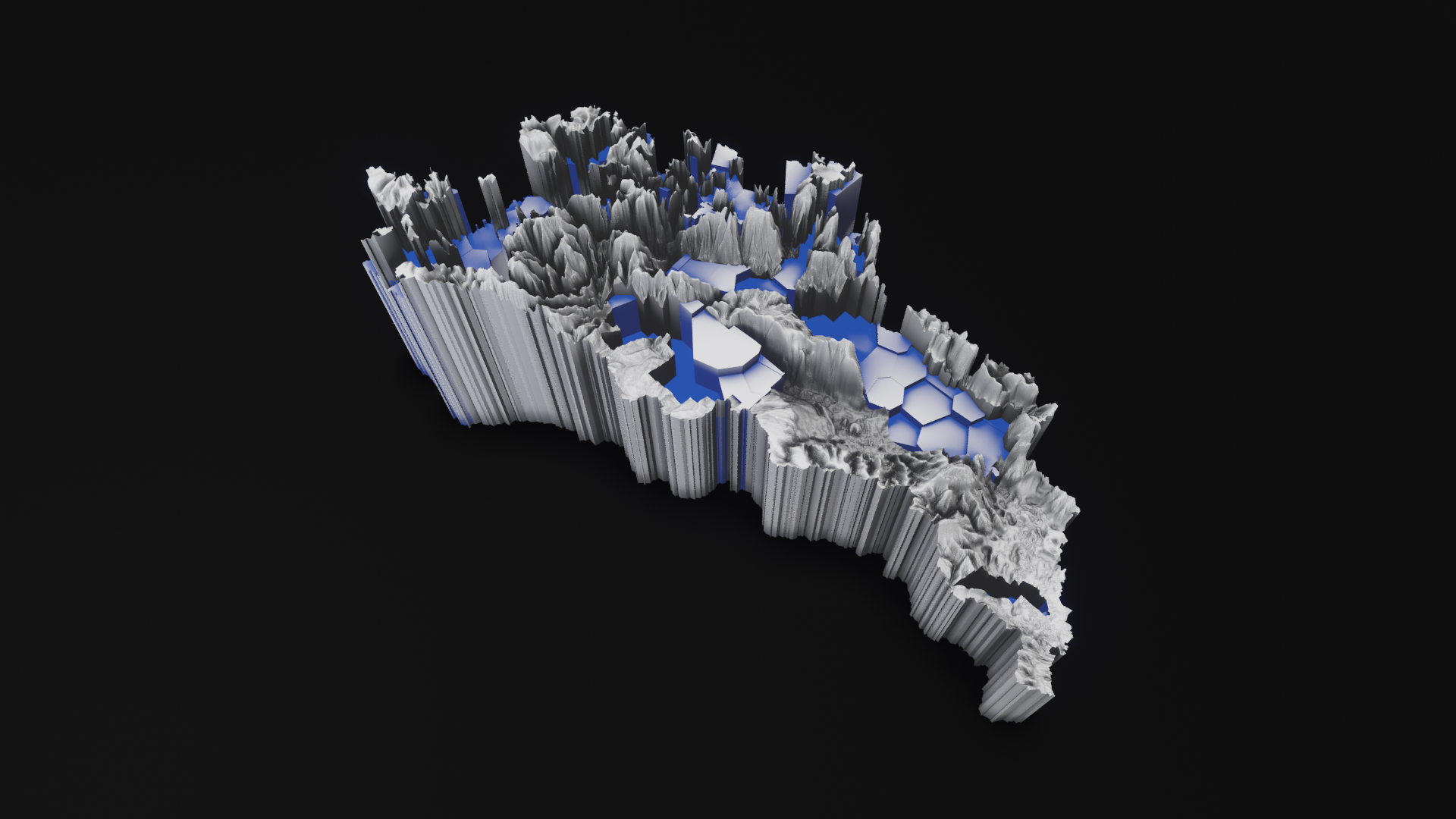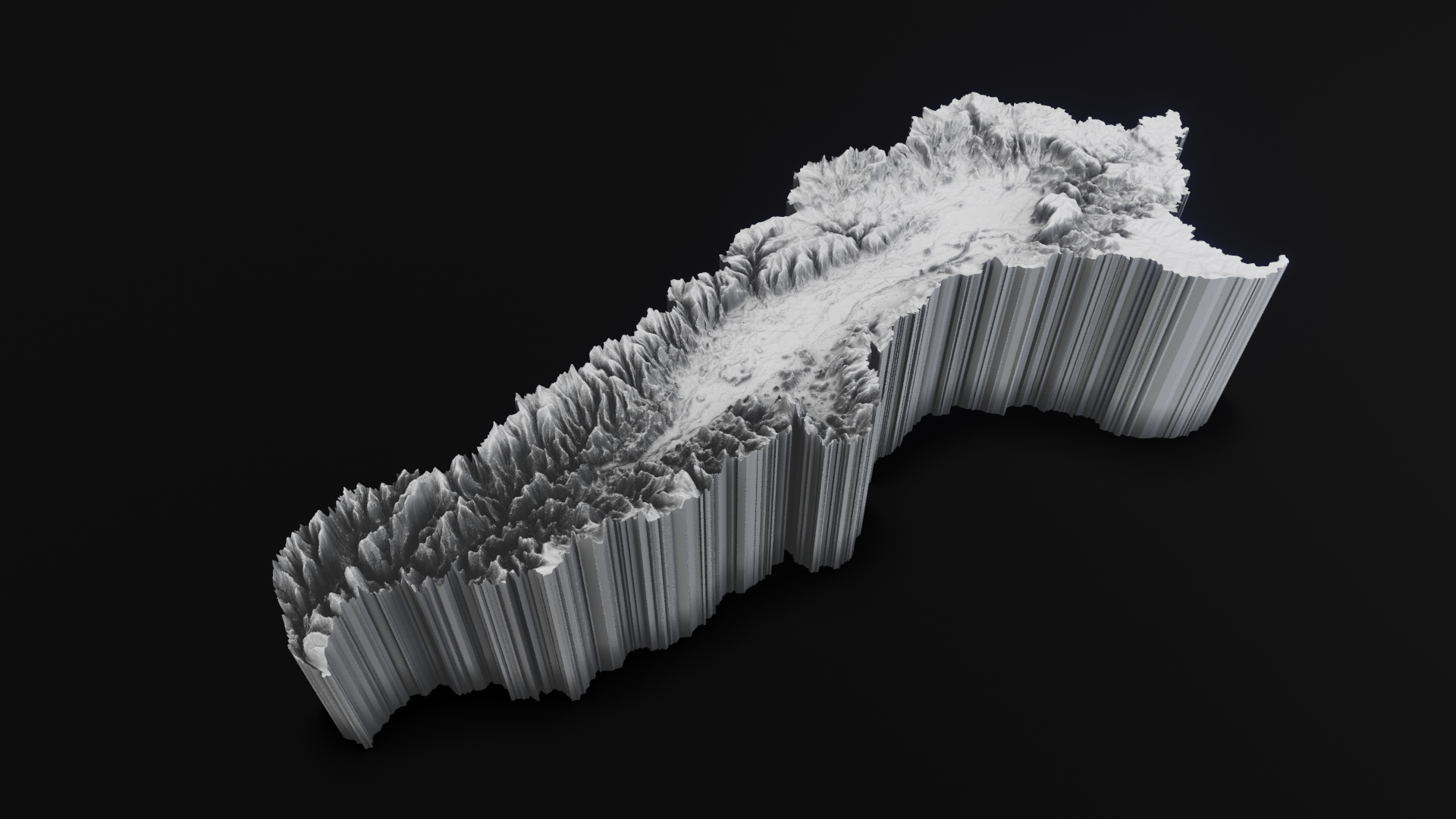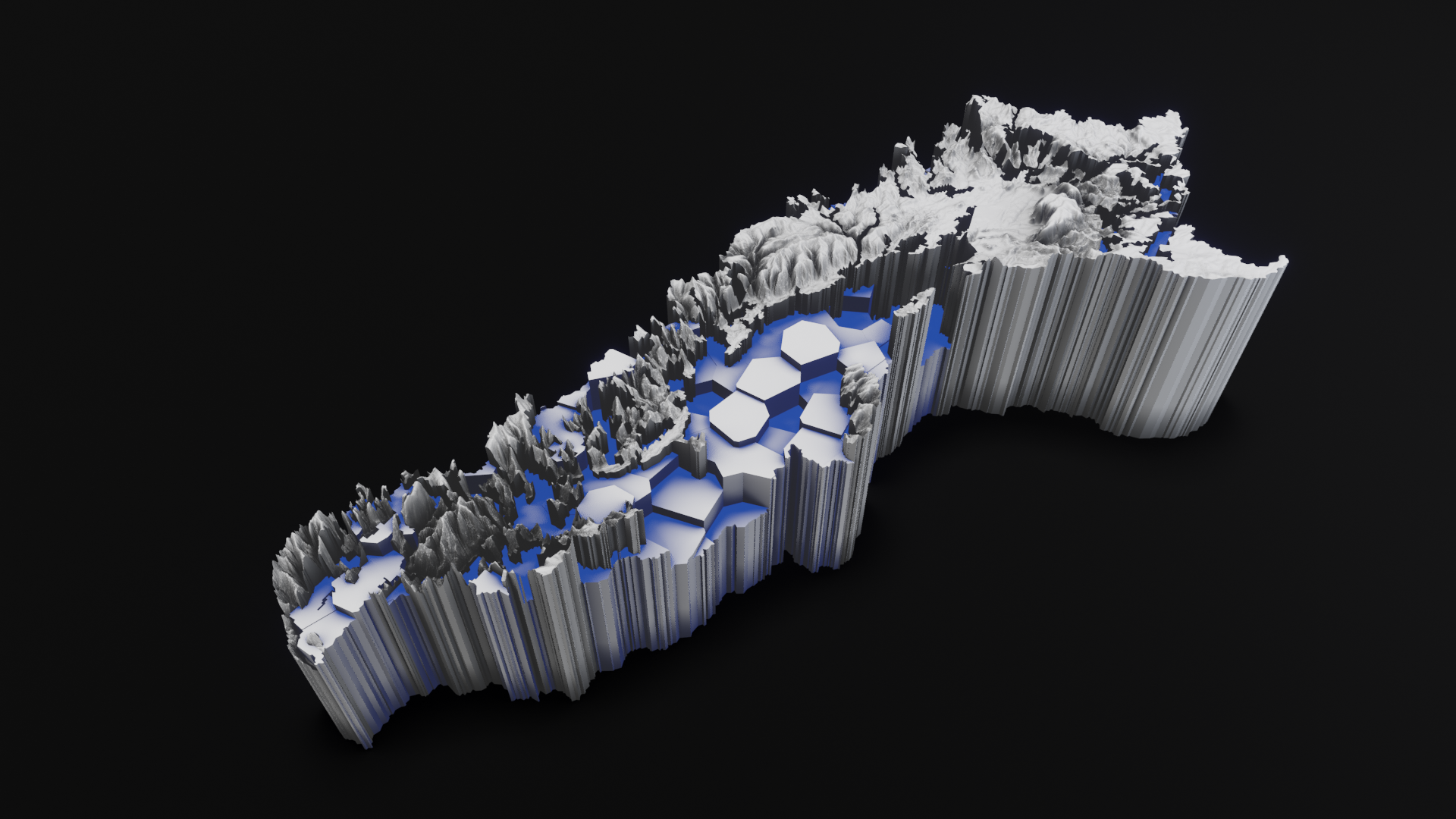 We use statistical data and geospatial socio-environmental information formulated by the RAISG (Amazon Geo-Referenced Socio-Environmental Information Network) that works by mapping the advancement of these threats and the pressures that the region faces. The main threats connecting the ecological and social damage infringed to Amazonia by human extractivist practices include:
The construction of water dams, the extraction of metals and minerals from the soil and the rivers, oil and gas extraction, deforestation of the rainforest to accommodate cattle (beef and leather) and support the production of soy, palm oil and timber.
The geo-referenced information is combined with linguistic analysis performed by the ONLINE APPLICATION RIVERS // AMAZONIA GEO-LINGUISTICS ONLINE APPLICATION
The process includes a temporal procedure from December 2020 to December 2021. During this period, we create "Time Stamps" which are used to modify the topography of the Amazon according to the procedures described above. See Chapter N.1: RIVERS // AMAZONIA GEO-LINGUISTICS ONLINE APPLICATION
The digital elevation models are used to generate volumetric cartographic representations, resulting in 3D models. The 3D models are printed with a 3D printer using clay (porcelain) as raw material.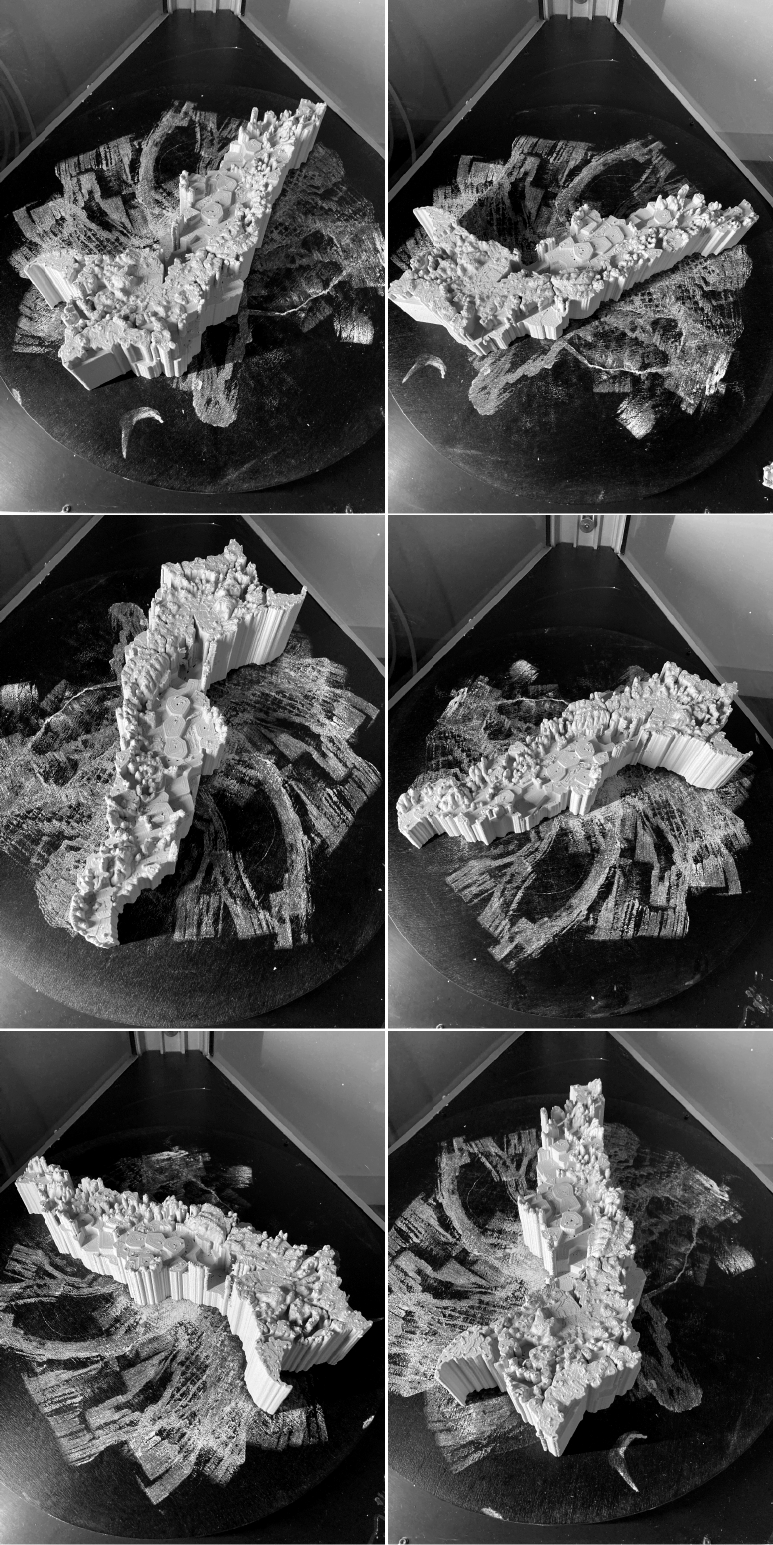 Pictures from the exhibition:
KultXL - 9/05/2023 - 9/06/2023
Credits
Conception, direction, production, Laura Colmenares Guerra
GIS analyst, Gabriel Codreanu
3D sculpting, Geert Melis
3D work & 3D printing, Laura Colmenares Guerra
Porcelain advisor, Eve Vaucheret