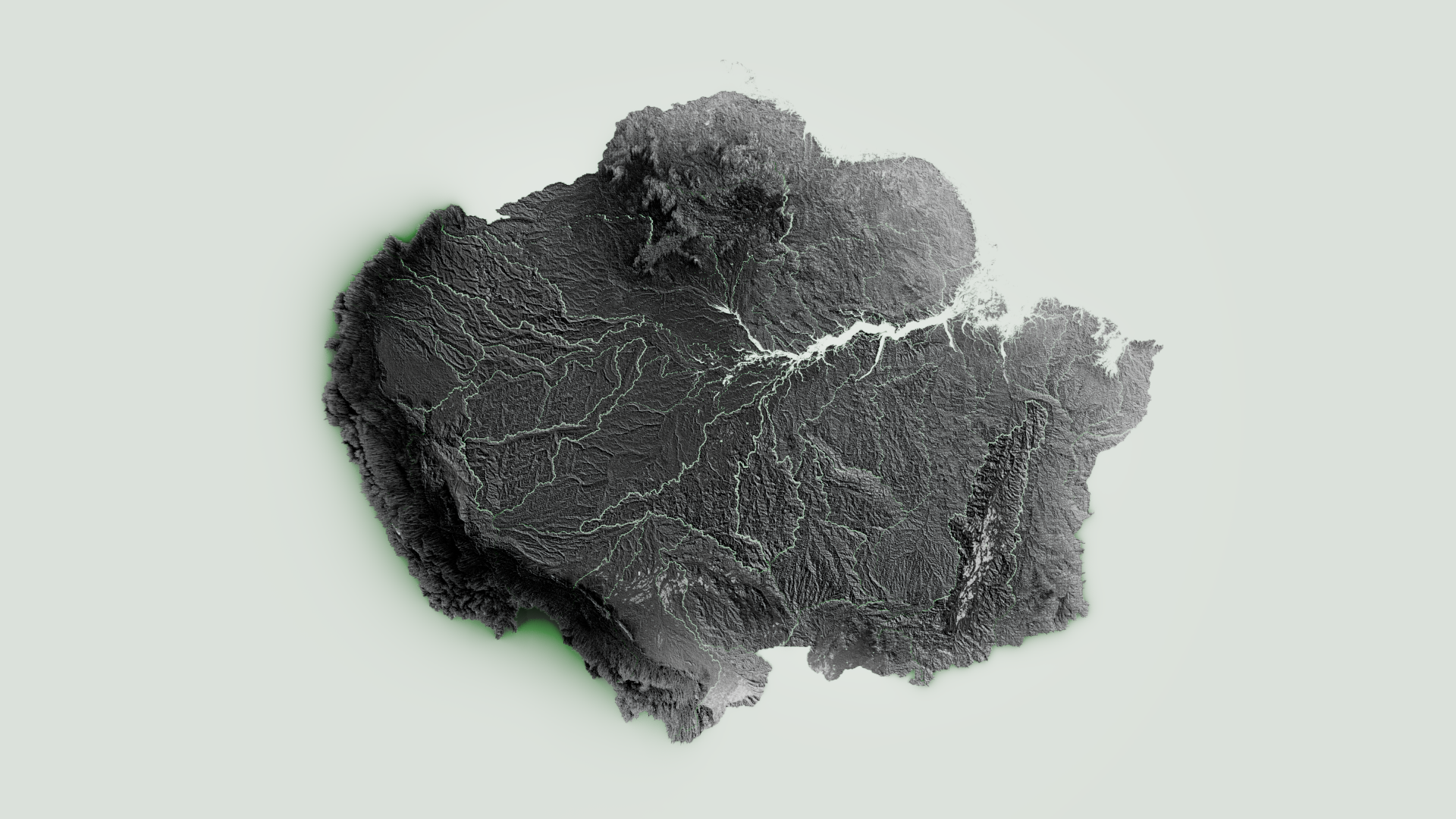 As you read these lines, the Amazons Rainforest keeps on burning. During the month of August 2018, the news spread fast over social media platforms. Hashtags such as #wildfires #AmazonFires #SaveTheAmazons made their trends for not more than seven days. Other trends rapidly covered #AmazonFires trends. Approximately one million hectares of high biodiversity forests have been burned so far since the #AmazonFires started. Almost 20% of the Amazon rainforest has been devastated. Reports from the National Institute for Space Research (INPE) show that in the first seven months of 2019, the deforestation rate in the Brazilian Amazon increased by 278%. Experts estimate that it would take 200 years for those forests to regenerate.
The Amazon is the largest and most diverse Rainforest in the world. It extends over 7.8 million km2. It's home to millions of people and countless species. It plays a crucial role in mitigating the effects of climate change, balancing the climate, distributing rainfall, and capturing massive amounts of carbon dioxide (CO2). However, the management of the Amazon Basin as a whole is limited due to the differing public policies defined by the nine countries it spans across, hindering cooperation mechanisms. There exists an unfortunate and persistent view of Amazonia as a remote territory full of infinite natural resources, open to new forms of agriculture and extractive colonisation, which has only become more complicated over the last 50 years with the integration of the region into national and international economies.
At a national level, the Amazon Rainforest is viewed as a territory capable of ensuring energy sovereignty and a source of income based on the production and commercialisation of raw materials. On a global scale, the region provides significant quantities of commodities while also being recognised as the most important source of fresh water and biodiversity, as a regulator of the Planet's climate, and as a carbon sink for large quantities of greenhouse gases.
The Ríos Trilogy is an extensive project consisting of three chapters exploring the Amazon Basin from local and global perspectives. It offers a perspective on the region that aims to understand how people within traditional Western thinking relate to Amazonia. Through different approaches, the Trilogy attempts to understand the meanings and definitions attributed to this territory. It also sheds light on the history of colonisation and how it has impacted Amazonia, providing insights into the current socio-environmental threats facing the region.
The Ríos Trilogy is composed of three chapters:
CHAPTER N.1 - RIVERS // AMAZONIA GEO-LINGUISTICS ONLINE APPLICATION




CHAPTER N.2 - SPECULATIVE CARTOGRAPHIES


CHAPTER N.3 - R€¥€R$€ - VR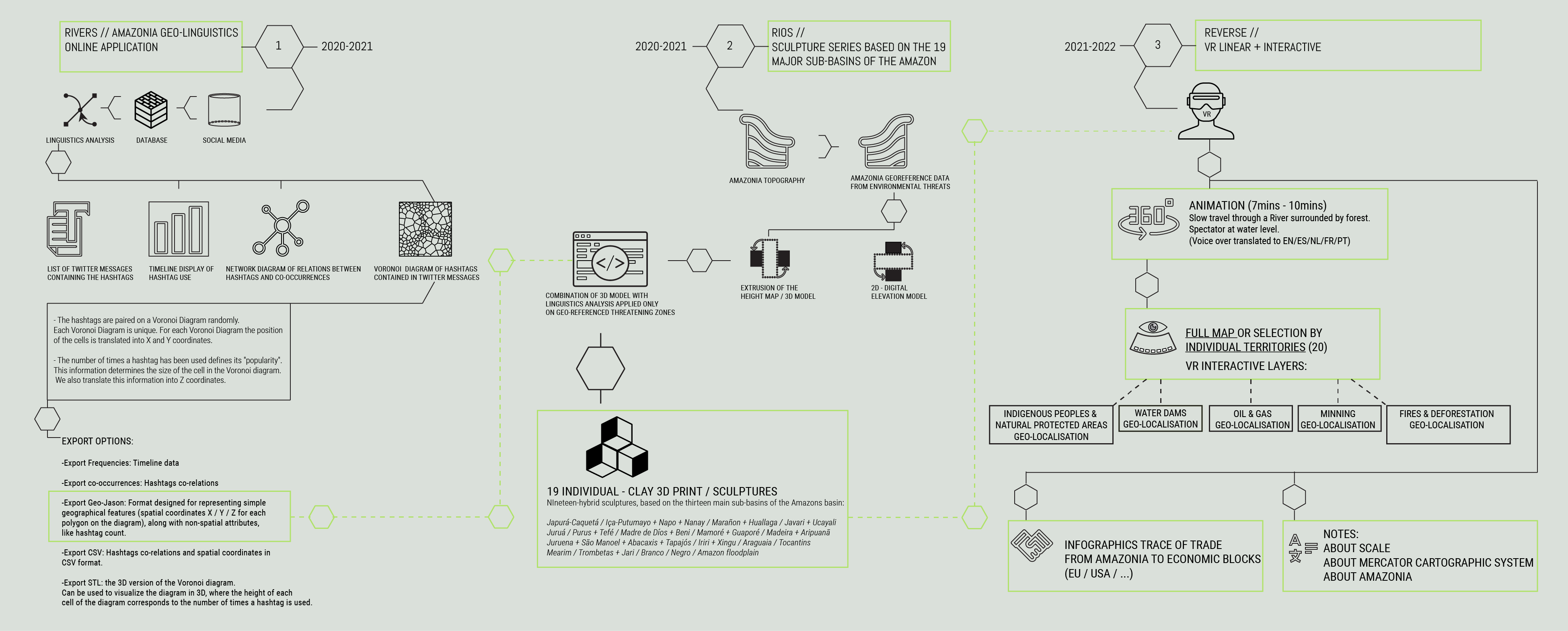 Credits
Conception, direction, production, Laura Colmenares Guerra
Rivers//Amazonia geo-linguistics software, in collaboration with Gijs de Heij
GIS analyst, Gabriel Codreanu
3D sculpting, Geert Melis
3D work & 3D printing, Laura Colmenares Guerra
Unreal developer, François Zajéga
Unreal environment & lighting, Samson Michel
Animation & compositing, Laura Colmenares Guerra
CG & VFX supervisor, Laura Colmenares Guerra
Sound design & Music composition, Loup Mormont
Amazon sound field recordings, Jana Irmert
Studio recordings, Antonin Simon
English VO, Emma Dingwall
French VO, Sarah Hebborn
Text editor, Camilla Colombo
Dutch VO, Nina Mallants
Portuguese VO, Fernanda Stefanski
Spanish VO, Laura Colmenares Guerra
Text corrections and translations, Anne Vereecken / Natalia Valencia Arango / Ellie McDonald / Joachim Devillé / Santiago Colmenares Guerra
Porcelain advisor, Eve Vaucheret
Wood constructions, Chris Lecler
Metal Constructions, Julie Van Mechelen
REVERSE, Co-Produced by OHME